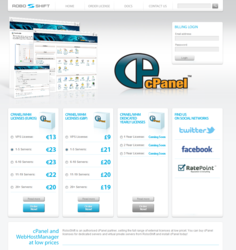 (PRWEB) June 22, 2011
RoboShift.com, an authorised distributor and cPanel partner, has officially launched. RoboShift.com is offering discounted cPanel licenses, aimed at the European market, for both dedicated and virtual private servers in Euros (EUR) and Great British Pounds (GBP).
Matt Russell, CEO of RoboShift.com, states; "Having worked with cPanel under various guises over the years, I am delighted to officially launch RoboShift.com and help cPanel increase their European market share. Buy licensing cPanel through RoboShift.com you can pay in your local currency of Euros or Pounds without having to worry about exchange rates and foreign currency transaction fees. External dedicated server licenses start at just £19 / €20 per month."
RoboShift.com will shortly be offering a range of cPanel-related addons including Softaculous, CloudLinux, WHMCS and more. These will all be available to purchase from http://www.RoboShift.com in the very near future.
About RoboShift.com

RoboShift.com is part of the Host Lincoln Ltd group of companies located in the United Kingdom.
RoboShift.com is an official cPanel distributor and offers cPanel/WHM, Enkompass, yearly cPanel licenses and more. Visit RoboShift.com at http://www.RoboShift.com
###
More Whmcs Press Releases