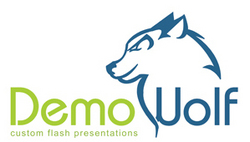 Halifax, NS, Canada (Vocus) July 6, 2010
DemoWolf has just released a completely new system for delivering Flash support tutorials to hosting companies, and along with this release, unveiled their new website, community forums, and a new subscription service.
With the new Tutorial Delivery System, DemoWolf clients (which are hosting companies) can brand the tutorials they purchase themselves by uploading their company logo and managing their purchase from a new system that's taken several months to develop. All tutorial branding is done automatically, so clients no longer have to wait for DemoWolf to brand their tutorials for them.
In addition, all DemoWolf clients now get access to a new Tutorial Viewer that allows them to easily select from a number of configurable viewing options. Clients download their customized Tutorial Viewer, upload it to their website, then their customers can easily search for and view the tutorials their looking for. What's more, is clients can update their Tutorial Viewer configuration and the way it looks, from the DemoWolf control panel, without having to make changes to their website.
New Subscription Service
In conjunction with the new Tutorial Delivery System, DemoWolf has also launched a brand new tutorial subscription service. With this new service, hosting companies can subscribe to, instead of purchasing tutorials, giving them complete control over which tutorials to display on their website. Since this new service is a hosted service, the tutorials will actually be stored on DemoWolf servers, but called from the same "Tutorial Viewer" that clients can configure, download and integrate seamlessly into their website.
With this new subscription service, DemoWolf clients can now update the logo that displays within their tutorials, make changes to the tutorials they wish to display, change which tutorial series' to display, and within seconds can add newly updated or newly released tutorials from the DemoWolf control panel, as soon as DemoWolf releases them. Updating tutorials, upgrading tutorials, altering the Tutorial Viewer and updating the branding logo that displays in each tutorial are all 100% free for subscribers, and can all be managed from within the DemoWolf control panel.
"The feedback we're getting from this new system and the subscription service is tremendous" says Rob Moore, president of DemoWolf. "The amount of control we've passed on to our clients is outstanding. As soon as we release a new series of tutorials or update an existing series (for example, when cPanel or Parallels comes out with a newer version of their control panels), our subscribers will be able to login to this new system, deselect the older version tutorials, select the newly released tutorials, change their logo for branding if they wish, click Generate, and the new tutorials will automatically and immediately be available for viewing on their website, within their Tutorial Viewer, by their customers."
There are several subscription plans available starting from $ 9.95/month, on up to $ 49.95/month for access to all 200+ tutorial series, which include over 4,000 tutorials. For clients who do not want the voice narrated versions of tutorials, $ 29.95/month will get them access to all available tutorial series. Discounts are available for existing DemoWolf clients. For more information on these plans, go to http://www.demowolf.com/buy-subscribe.php
New Website and Forums
DemoWolf has also launched a brand new website, integrated with the popular WHMCS billing system and a new community Forums section. Because of all the new features now available to DemoWolf clients, it is thought that there may be more support requests and interest in sharing their Tutorial Viewer integrations with the rest of the community… and the new Forums will make that much easier.
The WHMCS billing system is tied directly into the new Tutorial Delivery System, so that DemoWolf clients can manage their tutorials, subscriptions, purchases and logos all from within the new Client Area.
About DemoWolf
DemoWolf is the leading producer of Flash Support Tutorials for the hosting industry. Supporting hosting companies since 2005, DemoWolf currently has over 4,000 tutorials to choose from, and over 1,300 hosting companies actively using DemoWolf tutorials to help support their customers. Tutorials are available for such applications as Parallels Plesk Panel, cPanel, Helm, H-Sphere, DotNetPanel, Virtuozzo, Direct Admin and many supporting applications covering such topics as Email, domain names, FTP, WordPress and many more. In addition to hosting tutorials, DemoWolf also offers a Custom Tutorials service, voice recordings, tutorial translations, and DemoBuilder, the application used to create their tutorials. For more information, visit their website at http://www.demowolf.com, or call toll free 1-866-905-4678.
###
More Whmcs Press Releases